A UNIQUE HORSE ADVENTURE IN DINOSAUR VALLEY STATE PARK
Saddle up and enjoy some spectacular views as you ride along Dinosaur Valley State Park scenic trails. Being on the back of a horse gives you a different perspective of the park's untouched beauty. We haven't forgotten about the Buckaroos (Kids), Wrangler assisted trail rides for the Kiddos 3 yrs-14 years are also available. We will have hands-on contact with horse and rider for the full ride.
Youth Rides 10 minutes 20.00 $  Horseshoe trail ride 1 hour 50.00 $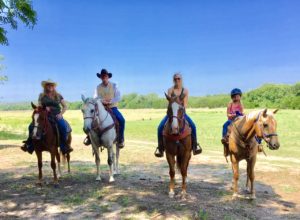 Late evening Hayrides are available to end the day. This is great for Family and Friends to wrap up the day and sing some good old Texas songs. Please contact us to book for a special event or a package deal. We are also available any day of the week for pre-paid reservations.